Post by Evon on Nov 27, 2012 22:20:25 GMT -5
November 28 is the 332nd day of the year in the Gregorian calendar.

There are 33 days remaining until the end of the year.

Days until coming elections:
www.daysuntil.com/Election-Day/index.html

U.S. Debt Clock: www.usdebtclock.org/
1518
Martin Luther
appealed to the pope for a general council.
en.wikipedia.org/wiki/Martin_Luther
1520
Portuguese
explorer
Ferdinand Magellan
passed through the
strait
(of Magellan
). With five vessels and about 265 men, Magellan sailed from Sanlucar de Barrameda on Sept. 20, 1519. Sighting the
South American
coast near
Pernambuco
, he searched for the suspected passage to the
South Sea
. In Jan., 1520, the
Rio de la Plata
was explored. While wintering in
Patagonia
(Mar.-Aug., 1520), he summarily put down a mutiny of some of his officers. On Oct. 21, Magellan discovered and entered the strait which bears his name, and on Nov. 28 he reached the
Pacific
. His fleet, by then consisting of three vessels, the
Concepcion
, the
Trinidad
, and the
Victoria
, sailed NW across the
Pacific
.
en.wikipedia.org/wiki/Ferdinand_Magellan
1729
Natchez Indians
massacre 138 Frenchmen, 35 French women, and 56 children at
Fort Rosalie
, near the site of modern-day
Natchez, Mississippi
.
1777 After the judgment and loyalty of
Silas Deane
is called into question, Congress appoints
John Adams
to succeed Deane as the
commissioner to France
on this day in 1777.
Deane had been recalled to America by Congress after fellow diplomat
Arthur Lee
accused him of misappropriating French funds. Whereas Deane was born and raised in
Connecticut
and educated at
Yale
, Arthur Lee was a Virginian following the educational and career path of the
British elite
when revolutionary politics intervened. The lesser-known brother of
Francis Lightfoot Lee
and
Richard Henry Lee
, he left the colonies to enroll at the aristocratic boarding school
Eton College
in
England.
He then pursued medical studies at the prestigious
University of Edinburgh
in
Scotland
, receiving his degree in 1765. In 1766, Lee went to London and began legal studies at the equally renowned
Temple Bar
until 1770, when he began a legal practice in London at which he worked until the outbreak of revolution in 1776. It was then that he was named, along with
Benjamin Franklin
and
Silas Deane
, as an American commissioner to France.
Lee never got along with his two colleagues and instigated Deane's recall by accusing him of financial mismanagement and corruption. Deane's replacement,
John Adams
, was also a New Englander (although from Massachusetts and Harvard) and defended Deane. Nonetheless, Deane was unable to clear his name and was forced to live in exile until his death in 1789. In 1842, Congress reopened the investigation into Deane's accounts and, finding no evidence of misconduct, ordered that his heirs be paid $37,000 in reparations.
Despite personal vendettas among the members of the congressional delegation, they eventually managed to succeed in their goal of
winning French support for the American war effort
. On February 6, 1778, the Treaties of Amity and Commerce and Alliance were signed; they were ratified by the Continental Congress in May 1778. One month later, war between Britain and France formally began when a British squadron fired on two French ships. During the
American Revolution
, French naval fleets proved critical in the defeat of the British, which was assured at the
Battle of Yorktown
in October 1781.
1785 The
Treaty of Hopewell
was signed between the U.S. representative
Benjamin Hawkins
and the
Cherokee Indians
. The treaty laid out a western boundary for white settlement. The treaty gave rise to the
sardonic Cherokee phrase of Talking Leaves
, since they claimed that when the treaties no longer suited the Americans, they would blow away like talking leaves. Of note in the signatures of the Cherokee delegation were several from leaders of the
Chickamauga/Lower Cherokee
, including two from
Chickamauga
itself and one from
Lookout Mountain Town
, plus others.
1843
Ka Lā Hui: Hawaiian Independence Day
- The
Kingdom of Hawaii
is officially recognized by the
United Kingdom
and
France
as an independent nation.
1862
American Civil War
: In the
Battle of Cane Hill
, Union troops under
General John Blunt
defeat
General John Marmaduke's Confederates
.
1863
Thanksgiving
was first observed as a
regular American holiday
. Proclaimed by
President Lincoln
the previous month, it was declared that the event would be observed annually, on the fourth Thursday in November.
en.wikipedia.org/wiki/Thanksgiving_(United_States)
1893
Women vote in a national election
for the first time: the
New Zealand
general election.

1895
James Frank Duryea
won the first American Automobile Race in Chicago, sponsored by the Chicago Times-Herald. With his brother Charles, Duryea invented the first automobile that was actually built and operated in the United States. On the day of the race, at 8:55 a.m., six "motocycles" left Chicago's Jackson Park for a 54 mile race to Evanston, Illinois and back through the snow. Duryea's Number 5 won the race in just over 10 hours averaging about 7.3 mph and was awarded a prize of $2,000. Following their victory in the race, the Duryeas manufactured thirteen copies of the Chicago car, and J. Frank Duryea developed the "
Stevens-Duryea
," an expensive limousine, which remained in production into the 1920s.
1905
ARM & HAMMER
baking soda was trademark registered. In 1867, when
James A. Church
joined his father as a member of Church & Co., he brought along the ARM & HAMMER trademark. He began to use it on some of the baking soda packages that were being sold under various name labels. After a period of time, more people requested the package with the ARM & HAMMER symbol on it than all others and the ARM & HAMMER brand became our primary brand.
1907 In
Haverhill, Massachusetts
, scrap-metal dealer
Louis B. Mayer
opens his first movie theater.
1908 A
mine explosion
in the mining town of
Marianna, Pennsylvania
kills 154.
en.wikipedia.org/wiki/Marianna
,_Pennsylvania#History
1914
World War I
: Following a
war-induced closure
in July, the
New York Stock Exchange
re-opens for
bond trading
.
1919
Lady Astor
is elected as a
Member of the Parliament
of the
United Kingdom
. She is the
first woman
to sit in the
House of Commons
. (
Countess Markiewicz
, the first to be elected, refused to sit.)
1921
New England
was in the midst of a four day
icestorm
, their worst of record. Ice was more than three inches thick in many places following the storm, and property damage was in the millions of dollars.
Northern New England
received heavy snow with more than two feet reported in some areas. Overnight freezing rains continued through the day at
Worcester MA
while the wind increased to a gale. Streets become impassable even on foot, and whole towns were plunged into darkness without communication. The storm caused 20 million dollars damage to power lines, telephone lines and trees. (David Ludlum)
1922 The first
skywriting
in the U.S. was demonstrated over
Times Square, New York City
, by
Capt. Cyril Turner
of the
Royal Air Force
. Flying at an altitude of 10,000 feet, he wrote letters in white smoke a half-mile high. The smoke was formed by oil, controlled by levers, dropped on the plane's hot exhaust pipe. The message in the sky was,
Hello, U.S.A. Call Vanderbilt 7200
. (Turner first used skywriting for advertising for a newspaper's name,
Daily Mail
,over England in May 1922.) In
New York, Major Jack Savage
was trying to sell this advertising idea to a skeptical
George W. Hill
, head of the
American Tobacco Co
. Savage had invited Hill to the
Vanderbilt Hotel
. Hill was convinced by the 47,000 telephone calls in less than 3 hours.
1925 The
Grand Old Opry
,
Nashville's
famed home of
country music
, made its radio debut.The Grand Ole Opry is a weekly Saturday night country music radio program broadcast live on WSM radio in Nashville, Tennessee, and televised on
Great American Country
network. It is the oldest continuous radio program in the United States, having been broadcast on WSM since November 28, 1925. The Grand Ole Opry started out as the
WSM Barn Dance
in the new fifth floor radio station studio of the
National Life & Accident Insurance Company
in downtown Nashville. The featured performer on the first show was
Uncle Jimmy Thompson
, a fiddler who was then 77 years old. The announcer was program director
George D. Hay
, known on the air as "The
Solemn Old Judge
."
1929
Adm Richard E Byrd
makes first
South Pole flight
. On November 29, the
Floyd Bennett
took off from
Little America
with Byrd as navigator, pilot
Bernt Balchen
, radio operator
Harold June
, and photographer
Ashley McKinley
. The plane was loaded with camera, food, and fuel. All items were weighed carefully and considered before loading, as all of this weight seriously reduced the plane's performance. Even with this carefully planning, the plane struggled as it neared the mountains. The difficult decision to throw part of the load from the plane was made. Byrd decided that the food would go, so they dumped one bag of food, and then another. Finally, the plane cleared the mountain. As the circled the
South Pole
, Byrd dropped
the flag of the United States
, weighted with
a stone
from the grave of
Floyd Bennett
. Then the party returned to the fuel depot at
Mount Nansen
, and returned to Little America.
1929
Ernie Nevers
scores all 40 pts for
Chicago Cards
vs
Bears
(NFL record). Of all the records in the history of the National Football League, the one that has survived the longest was set on November 28, 1929, when Chicago Cardinals fullback
Ernie Nevers
, scored every one of his team's points (six touchdowns and four extra point conversions) in a 40-6 rout of the
Chicago Bears
.
1932
Groucho Marx
performed on radio for the first time. The first episode of the show went out on the November 28, 1932. The original title was
Beagle, Shyster and Beagle
- Attorneys at Law. According to one of the episodes the '
Shyster
' was named after a shyster lawyer who had run off with Beagle's wife and was included as a show of gratitude. In the show, Groucho plays Waldorf T Beagle/Flywheel, an attorney. In episode one he hires an assistant, who goes on to appear in every show, called Emmanuelle Ravelli played by
Chico
. Most of the episodes in the series deal with the firm's inability to get jobs and the horrendous handling of any jobs they do get. There are running themes as well - notably the fact that they're always broke and that Ravelli is an idiot.
1942 Nearly
500 die
in a fire that destroyed
Coconut Grove
nightclub in Boston MA. On November 28th 1942, a huge fire occurred at the Cocoanut Grove Night Club in Boston. 492 people perished in total. The Cocoanut Grove was originally a
speakeasy-an illegal bar during alcohol Prohibition
-and some of its doors were bricked up or bolted shut. The
main entrance to the club was only a revolving door
. There were flammable decorations throughout the building including cloth drapery and paper palm trees. The club had a licensed capacity of 500 people, and on the night of the fire there were about 1000 people in the building.
1942
Coffee
rationing began in the United States, lasting through the end of
World War II.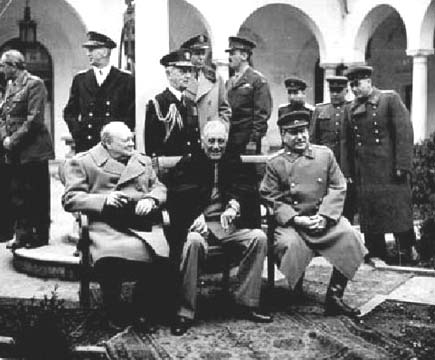 1943
FDR, Churchill
&
Stalin
met at
Tehran
to map out strategy. The
Tehran Conference
, took place in Tehran, Iran. It only came about after much pleading and threats from Roosevelt, who was weak and ailing at the time, but wished to strengthen the cooperation between the United States, Great Britain, and the USSR. The "Big Three" spent days wrangling about when
Operation Overlord
should take place, who should command it, and where operations should begin.
1944 "
Meet Me in St. Louis
," starring
Judy Garland
, opened in
New York.
Meet Me in St. Louis
is a 1944 romantic musical from
Metro-Goldwyn-Mayer
which tells the story of four sisters living in
St. Louis
at the time of the
Louisiana Purchase Exposition World's Fair
in 1904. It stars
Judy Garland, Margaret O'Brien, Mary Astor, Lucille Bremer, Leon Ames, Tom Drake, June Lockhart
, and
Marjorie Main
.

1948 The
Polaroid Land Camera
first went on sale, at a Boston department store. The 40 series, model 95 roll film camera went on sale for $89.75. This first model was sold through 1953, and was the first commercially successful self-deleveloping camera system. A sepia-coloured photograph took about one minute to produce.
Edwin H. Land
had previously demonstrated his invention of instant photography at a meeting of the Optical Society of America on 2 Feb 1947. His first commercial success came in 1939 with his invention of
Polaroid
filters for lenses in products such as ski goggles, sunglasses and slip-on sunglasses for optical glasses.
1950 A constitutional convention (comprised of
14 Protestant, Anglican, and Eastern Orthodox denominations
) met in Cleveland, Ohio, and brought into being the
National Council of the Churches of Christ in the United States of America
. Today, the NCCC serves to administer disaster relief, strengthen family life, provide leadership training, and promote world peace.
1953 "
Rags to Riches
" by
Tony Bennett
topped the charts. Bennett's first hit, "
Because of You
," topped the charts in September 1951, succeeded at number one by his cover of
Hank Williams'
"
Cold, Cold Heart
." Following another five chart entries over the next two years, he returned to number one in November 1953 with "
Rags to Riches
." Its follow-up, "
Stranger in Paradise
" from the Broadway musical
Kismet
, was another chart-topper, and in 1954 Bennett also reached the Top Ten with Williams' "
There'll Be No Teardrops Tonight
" and "
Cinnamon Sinner
."
1956 Holding the #1 spot on the music charts:
Guy Mitchell
singing "
Singing the Blues.
" In 1956,
Marty Robbins
was tearing up the country charts with "
Singin' the Blues
," on
Columbia
, and
Miller
chose
Guy Mitchell
to cut a pop-style cover of the song. Robbins' song was a huge hit as was, and might've been even bigger -- in those days, songs were regularly crossing over between the charts -- but Mitchell's version supplanted it on pop music stations, and on the charts, where it spent nine weeks at number one and sold well over a million copies.
1960 A severe storm produced waves 20 to 40 feet high on
Lake Superior. Duluth, MN
, was buried under a foot of
snow
, and clocked wind gusts to 73 mph. The northern shore of
Lake Superior
was flooded, and property along the shore was battered. Thousands of cords of pulpwood were washed into Lake Superior, and up to three feet of water flooded the main street of
Grand Marais
. Thunder accompanied the "nor'easter". (David Ludlum) (The Weather Channel)
1960
"Are You Lonesome Tonight?"
by
Elvis Presley
topped the charts. Outside of publishing deals, this is the only song which
Colonel Parker
asked
Elvis Presley
specifically to record, as he believed it could be a hit again. He was right, it topped the charts in both the UK and US. Elvis copied
Al Jolson's
1953 arrangement, including the spoken word middle section. Presley recorded this at around 4 in the morning during a marathon all night session along with 8 other songs. He turned down the lights while recording this in order to increase his emotional feeling.
1963 First million copy record prior to release "
I Want to Hold Your Hand
."
John Lennon
and
Paul McCartney
wrote this in
Jane Asher's
basement. Asher was an actress who became Paul's first high-profile girlfriend.
This was the first Beatles song to catch on in America
. In 1963, the
Beatles
became stars in England, but couldn't break through in the US. They couldn't get a major label to distribute their singles in America, so songs like "
Love Me Do
" and "
She Loves You
" were issued on small labels and flopped, even though they were hits in
England
.
1963
Beatles
"
She Loves You
" returns to #1 on UK record chart. This popularized the phrase "
yeah, yeah, yeah
."
Paul McCartney's
dad wanted them to sing "yes, yes, yes" instead because he thought it sounded more dignified. It was an instant hit in the England, but not in America, where it was released on Swan records, the only US label that would take it. Swan put it out in September 1963, but while
The Beatles
were huge in England, they were still no big deal in America until February 1964.
1963
President Johnson
announced that
Cape Canaveral
would be renamed
Cape Kennedy.
On November 28, 1963 President Lyndon B. Johnson announced in a televised address that Cape Canaveral would be renamed Cape Kennedy in memory of
President John F. Kennedy
, who was assassinated six days earlier. President Johnson said the name change had been sanctioned by the
U.S. Board of Geographic Names
. The
Executive Order
decreed that the
NASA Launch Operations Center
(
LOC
), including facilities on
Merritt Island
and
Cape Canaveral
, would be renamed the
John F. Kennedy Space Center, NASA.
That name change officially took effect on December 20, 1963.
1964 The United States launched the
space probe Mariner 4
on a cruise to
Mars.
In 1964, Mariner 4 was launched from Cape Kennedy, Florida. Making its Mars fly-by on July 14, 1965, this was the
first satellite to transmit a close-up photograph of Mars
. Flying as close as 9,846 km (6,118 miles), Mariner 4 revealed Mars to have a cratered, rust-colored surface, with signs on some parts of the planet that liquid water had once etched its way into the soil. It had various field and particle sensors and detectors, and a television camera, which took 22 television pictures covering about 1% of the planet. Initially stored on a 4-track tape recorder, these pictures took four days to transmit to Earth, showing the geologic and atmospheric processes at work on the planet over the eons. It continued in solar orbit for about 3 years.
1964 "
Leader of the Pack
" by
Shangri-Las
topped the charts. "
Leader of the Pack
" was a tale of young love, parental disapproval and death by motorbike. The sound of the motorcycle is the engineer's
Harley Davidson
. A young
Billy Joel
played the piano on this song.

1964
Mariner 4
was launched from
Cape Kennedy, Florida
. Making its Mars fly-by on 14 Jul 1965, this was the
first satellite to transmit a close-up photograph of Mars
. Flying as close as 9,846 km (6,118 miles), Mariner 4 revealed Mars to have a
cratered, rust-colored surface
, with signs on some parts of the planet that liquid water had once etched its way into the soil. It had various field and particle sensors and detectors, and a television camera, which took
22 television pictures covering about 1%
of the planet. Initially stored on a 4-track tape recorder, these pictures took four days to transmit to Earth, showing the geologic and atmospheric processes at work on the planet over the eons. It continued in solar orbit for about 3 years.
1964
Vietnam War: National Security Council
members agree to recommend that
U.S. President Lyndon B. Johnson
adopt a plan for a two-stage escalation of bombing in
North Vietnam
.
1965
Vietnam War
: In response to
U.S. President Lyndon B. Johnson's
call for "more flags" in
Vietnam, Philippines President Elect Ferdinand Marcos
announces he will send troops to help fight in
South Vietnam
.
1966The
New Vaudeville Band
received a gold record for "
Winchester Cathedral
." The group was masterminded by producer/songwriter
Geoff Stephens
, who in 1966 convened a group of mostly anonymous studio musicians (including drummer
Henry Harrison
) to record a jaunty, old-timey British number he'd written called "
Winchester Cathedral
." Though Stephens was credited as the vocalist on the track, it was later confirmed to be sung by ex-Ivy League/Flowerpot Men/First Class vocalist
John Carter
, who sang through his hands to simulate the sound of a megaphone (as on old
Rudy Vallee
records). "
Winchester Cathedral
" was an enormous hit, climbing into the British Top Five and going all the way to number one in America, where it also won a Grammy.
1967 The first
pulsating radio source
(
pulsar
) was detected by an
alert graduate student, Jocelyn Bell
, then working under the direction of
Prof. A. Hewish
at the
Mullard Radio Astronomy Observatory, Cambridge, England
. They were using a special radio telescope, a large array of 2,048 aerials covering an area of 4.4 acres. The discovery of these fascinating objects opened new horizons in studies as diverse as quantum-degenerate fluids, relativistic gravity and interstellar magnetic fields. Under extraordinary physical conditions, radiation is generated and appears
pulsed with a clock-like precision
synchronously with the pulsar rotational period. These periods range from 1.57 milliseconds to 5.1 sec.
1970 "
I Think I Love You
" by the
Partridge Family
topped the charts. In the premiere episode, the Partridge siblings ask their mom
Shirley
to help them make a record label demo. Recording "
I Think I Love You
," the family gets signed to a record label and has
a number one record their first time out
. "
I Think I Love You
," written by
Tony Romeo
and producer by
Wes Farell
, actually did become a number one million-selling pop hit, holding down the spot for three weeks beginning November 21, 1970.
1974
Bowie Kuhn
suspends
George Steinbrenner
for 2 years as a result of Steinbrenner's conviction for illegal campaign contributions to
Richard Nixon
and others.
1975
As the World Turns
and
The Edge of Night
, the final two
American
soap operas that had resisted going to pre-taped broadcasts,
air their last live episodes
.
1981 Alabama football coach
Paul 'Bear' Bryant
won his 315th victory. Bryant returned to
Alabama
as head coach in 1958 and became the
winningest coach in NCAA Division I history in 1981
, breaking
A. A. Stagg's
record of 314 victories. He spent 25 seasons at Alabama, winning 232 games while losing 46 and tying 9. Bryant's teams won or shared 13 Southeastern Conference championships and were named national champions in 1964, 1965, 1973, 1978, and 1979. He retired after the 1982 season with an overall record of 323-85-17. He holds the record for most major bowl games, 29, most bowl game wins, 15, and most losses, 12.
1981 "
Physical
" by
Olivia Newton-John
topped the charts. "
Physical
" was #1 in the US for 10 weeks. The only song to that point that stayed at #1 longer was
Elvis Presley
's "
Hound Dog
." A few radio stations in conservative communities (including
Salt Lake City, Utah
) banned this for it's veiled sexual content. This just added to the song's popularity and didn't hurt Olivia's reputation as one of the least offensive women in music.
1984 Over 250 years after their deaths,
William Penn
and his wife
Hannah Callowhill Penn
are made
Honorary Citizens of the United States
.
1987 Low pressure in the
Middle Mississippi Valley
produced a mixture of snow and sleet and freezing rain from the
Central Plains
to the
Upper Mississippi Valley
. Snowfall totals in Iowa ranged up to ten inches at
Red Oak
. Totals in
Nebraska
ranged up to 11 inches at
Shickley
. Freezing rain made roads treacherous in the
Twin Cities
area of southeastern
Minnesota
. Bitter cold arctic air invaded the
Northern High Plains Region
.
Laramie WY
was the cold spot in the nation with a morning low of 18 degrees below zero. (The National Weather Summary) (Storm Data)
1987 "
The Time of My Life
" by
Bill Medley
&
Jennifer Warnes
topped the charts. When he was told that
Jimmy Ienner
was planning to have
Bill Medley
sing this,
Franke Previte
had mixed emotions. He wanted to sing it himself in the movie, but Medley, who was a member of
The Righteous Brothers
, was one of his all-time favorite singers. Medley wasn't interested in recording a soundtrack single after having a duet with
Gladys Knight
, "
Loving on Borrowed Time
." Two months of constant pressure from Ienner didn't change his mind until a scheduled recording session was moved from New York to Los Angeles and
Jennifer Warnes
agreed to sing in the session. Medley was a huge Warnes fan.
1988
Thunderstorms
spawned
five tornadoes
in
North Carolina
during the early morning hours. A powerful tornado ripped through one of the most densely populated areas of
Raleigh
destroying hundreds of homes and damaging thousands more. The tornado killed four persons along its 83 mile track, and injured 154 others. Total damage was estimated at more than 77 million dollars. (Storm Data) (The National Weather Summary)
1988
Picasso
's "
Acrobat & Harlequin
" sells for $38.46 million
www.wikipaintings.org/en/pablo-picasso/acrobat-and-young-harlequin-1905
1989 Strong
Santa Ana winds
prevailed across southern
California
. Winds gusted to 70 mph at the Rialto Airport, and several tractor- trailer trucks were overturned east of
Los Angeles
. High winds also buffeted the northeastern U.S., ushering arctic air into the region. Winds gusted to 60 mph at
Montpelier VT
, and reached 66 mph at
Saint Albans VT
. (The National Weather Summary) (Storm Data)
daysuntil.com/Election-Day/index.html
www.weatherforyou.com/cgi-bin/weather_history/today2S.pl
en.wikipedia.org/wiki/November_28
www.amug.org/~jpaul/nov28.html
www.hymntime.com/tch/bio/r/a/n/rankin_je.htm
www.scopesys.com/cgi-bin/today2.cgi
www.history.com/this-day-in-history
www.cyberhymnal.org/index.htm#lk
www.lutheranhistory.org/history/tih1128.htm